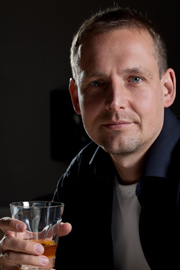 The Man behind The Whisky Key
Henrik Hansen was born and raised on the island of Bornholm. In 1995, he became a qualified metalworker.
Henrik Hansen ran an English pub and discotheque from 1997 to 2010, together with his partner Elsa Frederiksen.
The Idea for The Whisky Key
With more than a hundred different types of whisky on the shelves, I've seen many customers drink their whisky in different ways: some like it neutral, some like it hot and some cold – others prefer their whisky with water or ice. No way is better or more correct than another: you should drink your whisky the way you prefer!
But regardless of preferences, it is always interesting to try something new!
Therefore, in 2006, I started to experiment with how to open up/soften the taste of whisky and subdue some of its aftertastes, like alcohol. I have tried Bornholm granite and wood (both fresh wood and wood from old whisky casks), and even tried aerating the whisky. But none of these methods provided the effect I was looking for. So I thought back on what I had learned about metals during my apprenticeship and tried out metals like titanium, silver and stainless steel – in various forms. The best results were achieved using a unique design of stainless steel – and The Whisky Key was born!
In the last years of owning a British pub, we gave some of our customers the opportunity to try The Whisky Key in their whisky, which gave them with a unique experience. The Whisky Key has already provided many pleasant hours and rewarding experiences for whisky connoisseurs and those who have never tasted whisky before. We were so overwhelmed by the positive response that we decided to start producing The Whisky Key and also give everyone else who appreciates whisky the opportunity to have the same experience when they indulge.
Yours sincerely,
Henrik Hansen